Carbonated Drink Filling Machine Solution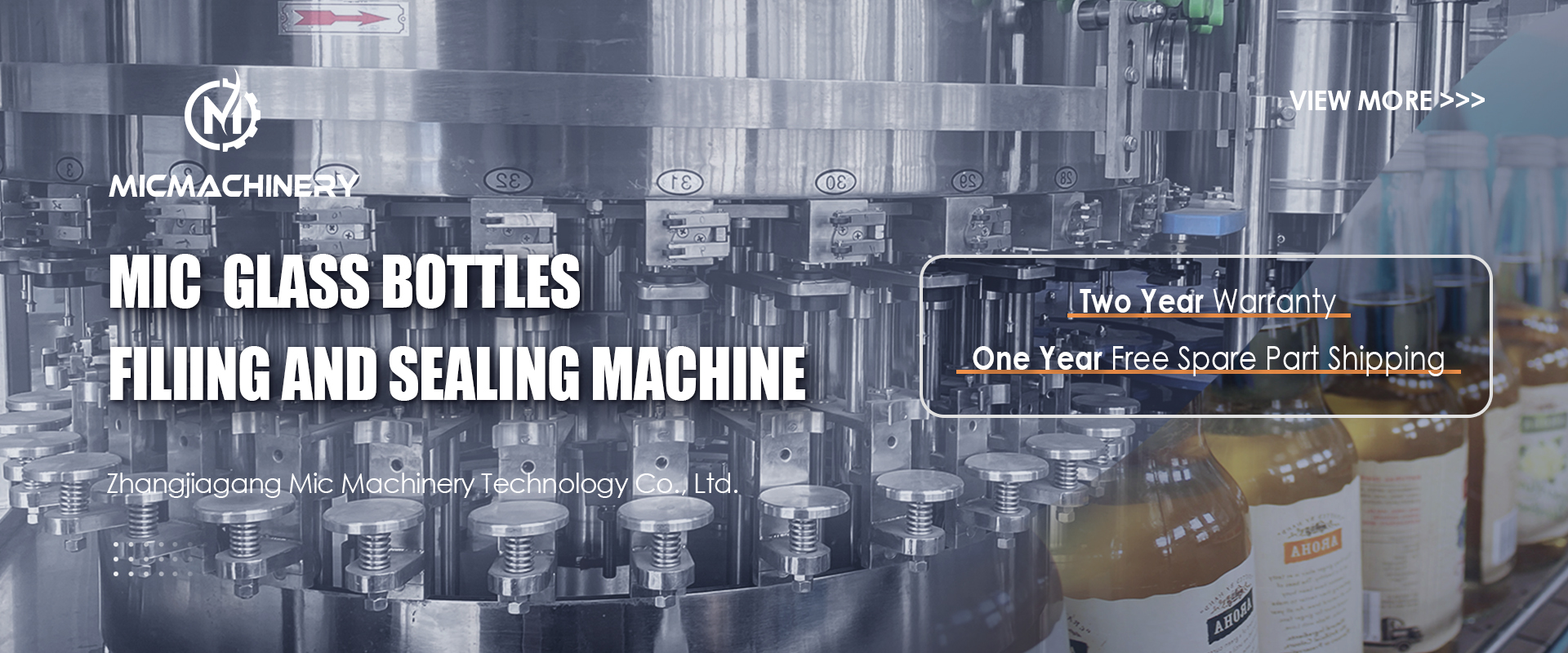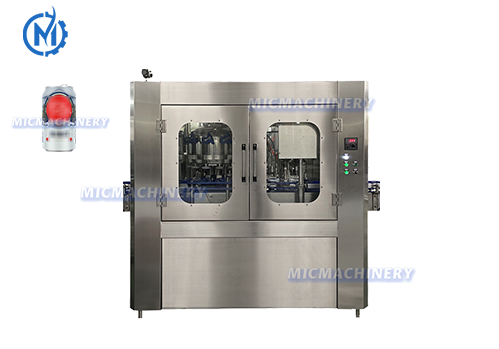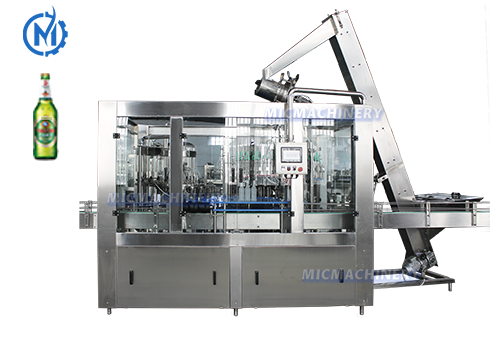 Carbonated Drink Can Filling Machine
Carbonatrd drink can filling machine adopts isobaric pressure filling system which is applicable for beer, carbonated beverage, soft drink, hard cider, soda water, sparkling water and other canned drinks (Cold filling temperature at 0-4 degrees Celsius)
It has the characteristics of filling reposefully, high speed, liquid level control, capping reliably, frequency conversion timing, less material loss. It can equip CIP system according to the customers' request. It is the preferred equipment for the small brewery and medium beverage plant
Machine Speed: 300-24000 CPH
Carbonated Drink Glass Bottle Filling Machine
Carbonated drink glass bottle filling machine isobaric filling system, controled by pressure, accuracy is +/-1%,liquid level difference is not more than 2mm. (requires steady pressure and temperature at 0-4degree).
Cap capping machine is qualified for Chinese seaming standard, and no air leakage at all. About beer oxygen content, we have device for foaming after fill and remove oxygen of beer, and nitrogen filling for replace air too.
Machine Speed: 300-36000 BPH
Carbonated Drink Filling Machine Line operation flow:
1.The stacking machine unloads the can or bottle
2.Can flip and rinse with twist cage
3.Can or bottle filling and capping station
4.Then X-rays are taken to detect the fluid level
5.Test the pressure in the can or bottle
6.The can or bottle goes into the tunnel, raising the temperature of the can
7.Can or bottle enter the air drying system to keep the can dry
8.Stamp the date on the can or bottle
9.Can or bottle shrink sleeve labeling station
10.Can or bottle carton packing station or film shrink wrapping machine
11.Place the packed beer can or bottle carton on a tray for transport and winding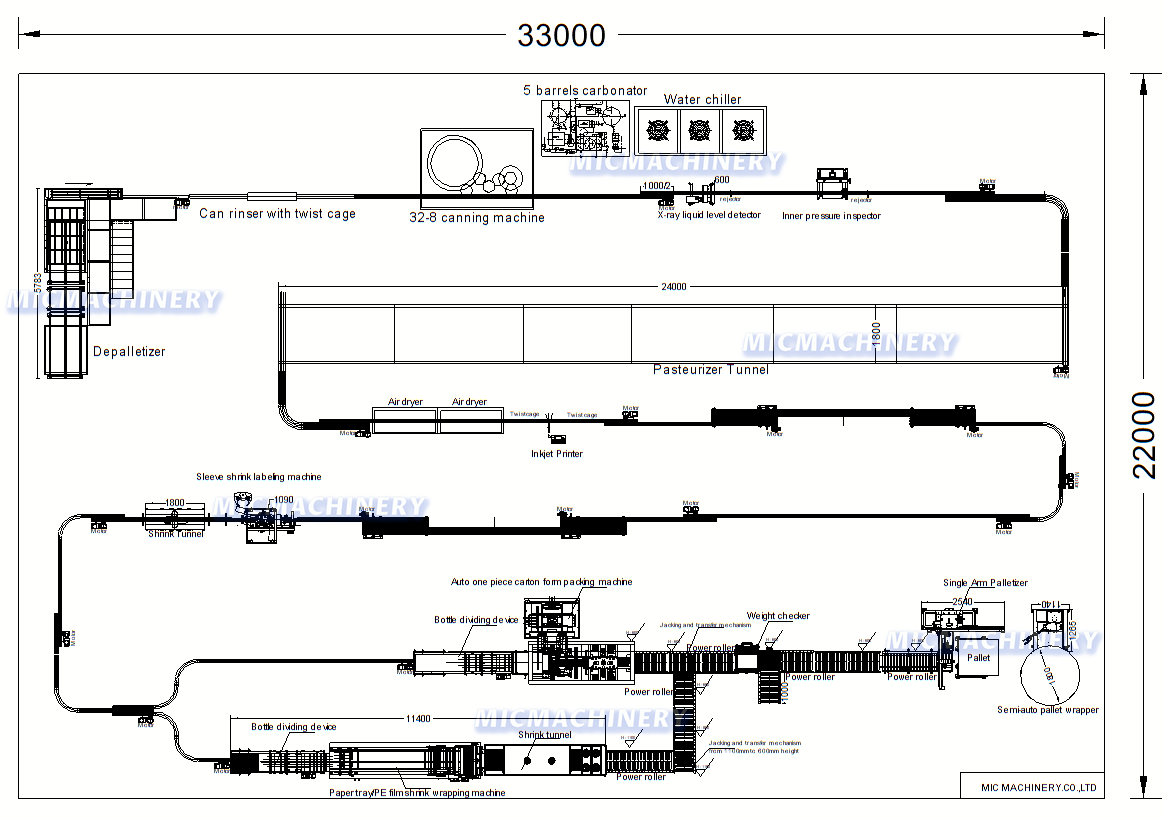 Carbonated Drink Filling Line All Machines
| | |
| --- | --- |
| Complete Full Automatic 3-in-1 Carbonated Drink Filling Machine | Carbonated water / Soft Drink / Beer |
Bottle Material

Bottle Shape

Filling Volume


Filling Level (mm)


Cap Type

Glass Bottle

Round Bottle

200-2000ml

Distance from bottle neck according request

Screw cap
Crown cap

Plastic Can
Round Can
100-1000ml
Distance from can neck according request


Ring Pull Type

Stay On Tab
Adjustable specifications of the bottle, can type

Customers need to buy additional change-over parts for the different bottles or cans.
If using square bottles or cans, then bottle or can separating system will be added.

Carbonated Drink Preparation

Syrup melter / Mixing machine / Filter / CO2 Filter / CO2 Mixer ...../td>

Filling Precision

Washing bottle - CO2 into bottle - Vacuum - CO2 - Vacuum - Filling Beer - Capping

Container Label & Control Mode

Packing System

Min, Spec.

Palletizing System

Hot Melt Roll-Fed
PVC Shrink Label
Full Label/ Half Label
Manual / Automatic

Manual
Film Shrinker
Wrap Around Packer
Packing Machine

1*2
2*3
3*4
4*6
3*5

Manual
Low position gantry palletizer
Robot Palletizer
High position gantry palletizer
Single Arm Palletizer
Manual Palletizer
User Ambient Conditions




Temperature: 10~40℃ Humidity: No dew




User Electrical Supply Specification




Voltage: 380V±5% 3phase Frequency: 50H

Z

±1%



MIC 12-1 Carbonated Drink Filling Machine
Carbonated Drink Filling Machine adopts isobaric pressure filling system which is applicable for beer, carbonated beverage, soft drink, hard cider, soda water, sparkling water and other canned drinks (Cold filling temperature at 0-4 degrees Celsius) It has the characteristics of filling reposefully, high speed, liquid level control, capping reliably, frequency conversion timing, less material loss
MIC 18-6 Carbonated Filling Machine
Carbonated Filling Machine has the characteristics of filling reposefully, high speed, liquid level control, capping reliably, frequency conversion timing, less material loss. It can equip CIP system according to the customers' request. It is the preferred equipment for the small brewery and medium beverage plant
MIC 24-6 Carbonated Filling Line
Carbonated Filling Line adopts PLC, frequency converter, human machine interface controlling system, having the advanced controlling technologies, such as frequency control, no can no filling and so on. Can seaming machine is qualified for Chinese seaming standard, and no air leakage at all.
MIC 18-18-1 Carbonated Soft Drink Filling Machine
Beer Filling Line is of good reliability of mechanical operation, perfect functions in rinsing, filling, capping, disinfecting and sterilizing, realizing filling the sterile beer into the sterile container in a sterile environment. This machine equips automatic lubrication device.Equip automatic washing device for broken bottles.
MIC-10B Shrink Packaging Machine Manufacturer
Shrink Packaging Machine Manufacturer Specially designed for packaging production line of beer, beverage, pure water, fruit juice, dairy products, etc. With full automatic functions of bottle transfer and arrange, membrane packing, sealing and cut, shrinkage, cooling and shaping, etc.
Shrink Wrap Machine shape is simple and beautiful, its structure is novel and unique, and its maintenance is convenient.
The whole machine adopts energy-saving technology design, saving 35% energy consumption, low carbon and environmental protection.
MIC-15C Automatic Case Packer Machine
Automatic Case Packer Machine is reliable in operation: This machine is realized by the servo to pick up and release the product. Through the mechanical operation, pneumatic and electric control, the product can be accurately and reliably picked up from the box holder with a suction cup into the carton.
Automated Case Packer Bottle are separated to multi channel at conveyor, and then group by bottle separate fracture evenly. Bottle are grouped , then drop to cardboard via bottle drop fracture. At drop fracture with bottle and cardboard fall procedure, via one group of form block board, then card board fold to carton form.
Pallet Winding Machine motor, electric wire, chain device such as a dangerous all build.To ensure the safety of operating personnel. New 360 arc column design, concise and easy appearance. PLC programmable control, winding program is optional. Optional multi-function man-machine interface touch screen display system, real-time display equipment running status
MIC PET Bottle Blowing Machine
PET Bottle Blowing Machine is suitable for producing PET plastic containers and bottles in all shapes.
And can produce PET containers including the bottles for kinds of drink , soybean, vinegar, and pesticide (less than 10liters) according to the different bottle shape and diameter
Blow-drying Machine blow-dryer adopts advanced air knife technology with stable performance, low temperature operation, high visibility and good blow-drying effect. It is suitable for medium and high speed production line. Low energy consumption, it is the most ideal blow-drying tool for liquor packaging line.
MIC Carbonated Drink Mixing Machine
Carbonated Drink Mixing Machine The pre-cooled and pre-carbonized liquid flows through the inlet valve into the pot, in which, there is carbonic acid gas as well. The liquid flows out the groove and turns into a liquid curtain for better cooling and good carbonic acid gas absorption. Finally, the treated beverage liquid, powered by the carbonic acid gas pressure, flows into the filling machine.
MIC Liquid Nitrogen Dosing Machine
Liquid Nitrogen Dosing Machine could control dosing volume accurately, no-container-no-liquid dosing, small size, easy installation and could coordinate with any filling production line. Control system comprises Siemens PLC and touch screen, all pipes adopt vacuum heat-insulated pipes which could ensure minimum consumption of liquid nitrogen and no frosting operation condition.
MIC X-Ray Liquid Level Detection Machine
X-Ray Liquid Level Detection Machine Through the installation of automated testing equipment, to achieve the quality control of the packaging aspects, and real-time defective products removed in the event of abnormal production failure, a sound alarm design, the scene can promptly notify the operator, the fault in time to contact, ensure that Productivity.