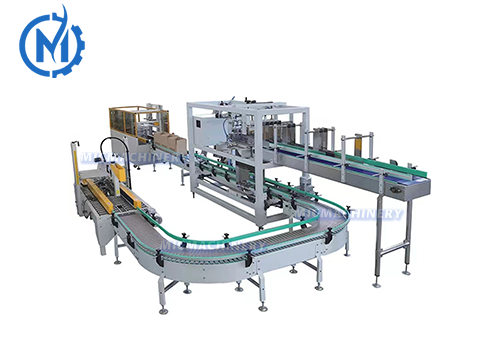 FEATURES

PARAMETER

CONFIGURATION
Major characteristics
1. Imported components, electric and pneumatic parts.
2.Vertical cardboard mechanical, add cardboards whenever necessary without stopping the machine.
3.Manually adjust for different cartons within allowable range, just takes 1~2 minutes.
4.Reasonable design, vacuum cup suck the cardboard, fold and seal the bottom.
5.Small space occupation, precision and durable parts provide the gaurantee for stable running, long life, and high efficiency.
6. with protection device for cutter installation to avoid being hurt.
7.Easy operation, machine can be used individually and combined with the packaging line.
◆ Automatic case packing machine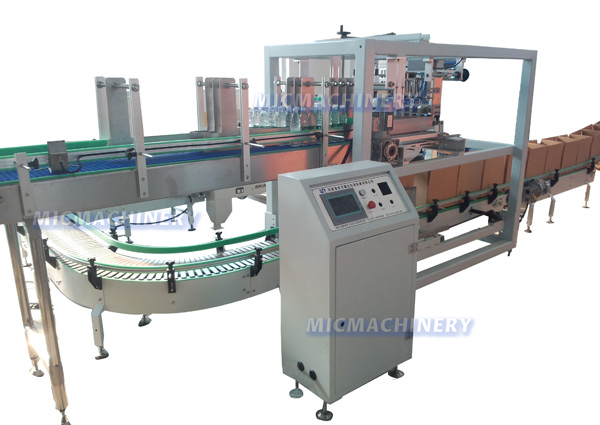 In the automatic packaging line, the case packer is the core of the entire system. The carton packing machine is used to complete transportation and packaging. It is a machine that packs finished products into cartons according to a certain arrangement. This type of boxing machine produced by our company is a drop-type automatic boxing machine, which can automatically shape and arrange the packaging, put it into the opened carton, and complete the tape sealing and other actions. This machine adopts a new type of combination The structure includes functional units such as unpacking and forming device, lane dividing and aligning device, filling device and sealing device, respectively, to complete the corresponding functional actions.
Major characteristics
1. According to the customer's packing and arrangement requirements, the products are automatically arranged and combined to reduce labor intensity and improve efficiency
2. When packing, the equipment will automatically open and position the top of the carton to ensure smooth packing and no worries about jams.
3. It has a wide range of applications, can meet the packing of products of various specifications, and is convenient to adjust
4. Realize product sorting and packing in the same station, which solves the problem of large volume and space occupation of conventional packing machines
5. Control mode: PLC+touch screen+standard control button+signal switch, divided into automatic/manual control mode
6. The fault point can be found through the touch screen, and troubleshooting is easy and simple
7. This machine is suitable for edible oil, daily chemical, beverage and food and other light industry industries, and has a wide range of applications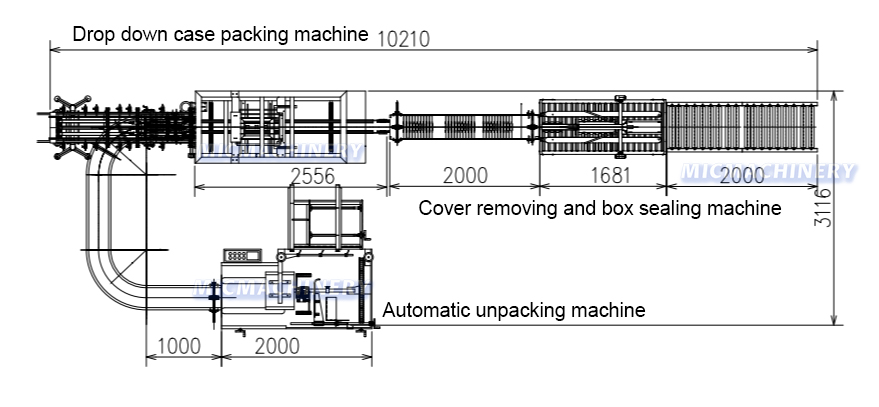 Carton sealing machine
◆ Major characteristics
1. Top to bottom Transmission belt, the main transmission mechanism is high-precision and low noise, make the belt life longer.
2. The length of the folded sealing belt's can be adjusted: 55mm, 65mm, 75mm
3. The machine has the alarm indicated system, automatic stop system when the door opening, these system keep safe for maintenance.
Conveyor
Technical Parameters
| | |
| --- | --- |
| Carton size | L260-535* W260-420*H130-330 |
| Speed | 10 carton/min(according to the carton size) |
| Dimension | 1950*1500*1450mm |
| Power supply | 220V;50Hz |
| Table high | Min 600mm; Max 720mm |
| Tape width | 45~72mm |
| weight | 300kg |
| | |
| --- | --- |
| Model | ROY-10C |
| Power supply | 380V,50/60Hz |
| Power | 3.5kw |
| Capacity | 500-600 case/hour |
| Total weight | 1200kg |
| Air consumption | 5-6kg/cm2 460L/min |
| | |
| --- | --- |
| Packing speed | 20 cartons/min |
| Tape width | 36~70mm |
| Power supply | 220V 50Hz |
| Power | 0.5kw |
| Size | 2000*740*1400mm |
| weight | 200kg |
Configuration
| | | | | |
| --- | --- | --- | --- | --- |
| Name | Model | Amount | Brand | Origine |
| Miniature circuit breaker | 4P C20 | 1 | Schneider | France |
| Miniature circuit breaker | 1P C10 | 1 | Schneider | France |
| A.C.contactor | E1810 | 1 | Schneider | France |
| A.C.contactor | E09104 | 3 | Schneider | France |
| Emergency stop | LAY7-11ZS/R | 1 | Schneider | France |
| Switching power supply | S8JC-Z05024C | 1 | Schneider | France |
| Relay | MY2NJ 24VDC | 1 | Schneider | France |
| PLC | SIMATIC S7-200 | 1 | Siemens | Germany |
| Touch screen | SMART 700 IE V3 | 1 | Siemens | Germany |
| Frequency transformer | SINAMICS V20 | 1 | Siemens | Germany |