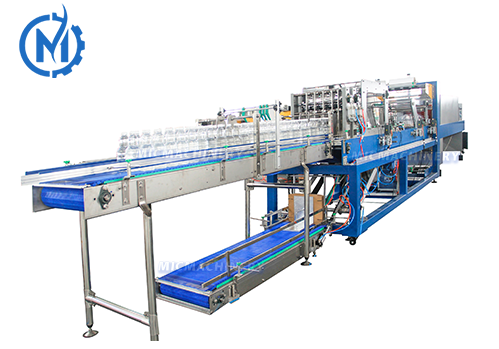 FEATURES

PARAMETER

CONFIGURATION
◆ Basic Configuration
● Siemens-Germany : PLC Control system.
● Touch screen: Siemens 1set.
● Taiwan Airtac pneumatic component 1set.
● Siemens frequency 2set.
● Stainless steel wing heating tube 12pcs.
● China-USA cooperation Teflon convey belt.
● South Korea Autonics photoelectricity switch, approach witch.
● Whole machine appearance plastic spray, machine rack adopt to high-quality carbonated steel, main part adopt to stainless steel.
● Wooden case and wrapping film separate package.
◆ Product instruction
● frequency converter speed adjust.
● Proximity switch control film length.
●Touch screen, PLC system greatly increase facility movement reliability.
●Three-wind recycle fan machine, ensure shrinkage tunnel inside even temperature.
● Frequency limitless speed adjust convey belt frame.
● convey belt height can make according client requirement, adjust range:±100mm.
● Wing stainless steel heating system, endurance.
● Meet with product instant stop requirement product-bearing rack device ensure production line consistency.
◆ Technical requirement
1、package type:
(1) 350/500/550/600ML big bag:4×6,4×5 ; small bag、3×4,3×5 four type of package.
(2) 1L/1.5L/2L/2.5L big bag:3×3,3×4; small bag、2×2,2×3 four type f package
2、package speed:10-15bag/min
3、meet with pre-treatment filling speed of filling machine.
(1) 350/500/550/600ML big bag:4×6,4×5,(24000-29000b/hr)、small bag:3×5,3×4,(15000-18000b/hr).
(2)1L/1.5L/2L big bag:3×4,3×3(10000-14000b/小时)、 small bag:2×3,2×2(5000-7000b/h).
4、package material:cardbox
◆ The working principle of equipment
● Mechanism rotation: the machine rotation drove by servo motor, adopt to synchronous belt and chain rotation assembly method, ensure rotation harmony, the place that adopt to chain ration all add protection covet and lubricate device, ensure worker safe and circumstance clean.
● Have the function: while lack bottle, the machine will alarm, no bottle no film feeding function
● Controlling system: adopt to PLC and touch screen controlling, have manual. Auto move method, touch screen have full machine manipulation function, can display instant and accumulated package quantity, and enable can print with the connected printer. Setting procedure is more quick and precise; controlling panel adopt to electronics touch and control button controlling, can directly input and revise package type parameter, also can save different package specification parameter; timely supervise facility operation whole process. All the working procedure all have sensor checker, have ego diagnose function, if have any breakdown, facility will auto stop, alarm light blink, display breakdown type indication on the touch screen; common type reducer motor matching frequency transducer, whole machine limitless speed adjust, move transmission is very steadily; can as above situation change, auto control machine movement speed.
● Mechanism character: mechanism spare parts adopt to stainless steel, chroming steel and strong anti-corrode character aluminum alloy ect material; surface good quality spray printing, whole machine have strong anti-rust character.
● The facility accord with safe manipulation and safe operation related criterion and standard. All the lubricate part connect central place, for convenient to handle, lubricate part all ensure have no pollute on the product.
● Performance character: high automatic, the machine choose PLC programmable control, electricity part all adopt to import reliable pneumatic device and super electricity controlling technology, have steadily character, easy to handle, low failure; easy to handle; the machine belong to full auto production, and can limitless speed adjust and whole line synchronization operation.
package type




(1) 350/500/550/600ML big bag:4×6,4×5 ; small bag、3×4,3×5 four type of package.

(2) 1L/1.5L/2L/2.5L big bag:3×3,3×4; small bag、2×2,2×3 four type f package




package speed




10-15bag/min




meet with pre-treatment filling speed of filling machine




(1) 350/500/550/600ML big bag:4×6,4×5,(24000-29000b/hr)、small bag:3×5,3×4,(15000-18000b/hr).

(2)1L/1.5L/2L big bag:3×4,3×3(10000-14000b/小时)、 small bag:2×3,2×2(5000-7000b/h).




package material




cardbox



Main component detail list
No
Name
Specification
Number
Brand
1
board production component






2
Plant metal component






3
pneumatic component


1
Taiwan Airtec
4
Electric controlling component and accessory






Hot glue machine


1
Nordson/Robatech
Photoelectric switch


1
South Korea Autonics
Proximity switch


4
South Korea Autonics
PLC


1
Siemens
Touch screen


1
Siemens
Frequency converter


2
Siemens
AC contactor


9
France Schneider