Introduction

Parameters

Setup List

Client Views
Mic 18-6 beer can filling machine adopts isobaric pressure filling system which is applicable for beer, carbonated beverage, soft drink, hard cider, soda water, sparkling water and other canned drinks (Cold filling temperature at 0-4 degrees Celsius)
If you also want to use the same machine to fill non-carbonated drinks is available. Through change the counter pressure filling valves to normal pressure filling valves then it will be suitable for filling non-carbonated beverages such as energy drink, fruit juice, cold brew coffee, vitamin water, herbal tea and so on.
beer canning machine, beer can machine, beer can filling machine, beer filling machine, canning line, beer canning machine for sale, beer canning line
Machine features:
1. Mic 18-6 beer can filling machine is in the digestion and absorption of advanced foreign and domestic sealing machine on the basis of independent development of the can filling, sealing unit. Filling and seaming part is the overall designed, in order to ensure that both the absolute synchronization and coordination.
2. The machine adopts PLC, frequency converter, human machine interface controlling system, having the advanced controlling technologies, such as frequency control, no can no filling and so on.

3. It has the characteristics of filling reposefully, high speed, liquid level control, capping reliably, frequency conversion timing, less material loss. It can equip CIP system according to the customers' request. It is the preferred equipment for the small brewery and medium beverage plant
4. The main electric and pneumatic components of the machine are famous imported brands, and it also can be disposed according to client's requirements.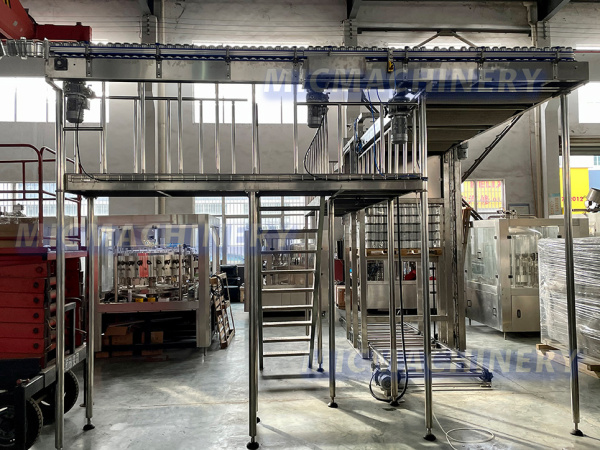 Empty can depalletizer
Automatic empty aluminum cans depalletizer is mainly used for automatic unloading of empty cans. The empty cans stacked on the pallet, from bottom to top layer of lift and push to the net conveyor and matching use with inline cans rinser which is the ideal equipment of medium-sized and large beverage manufacturers essential.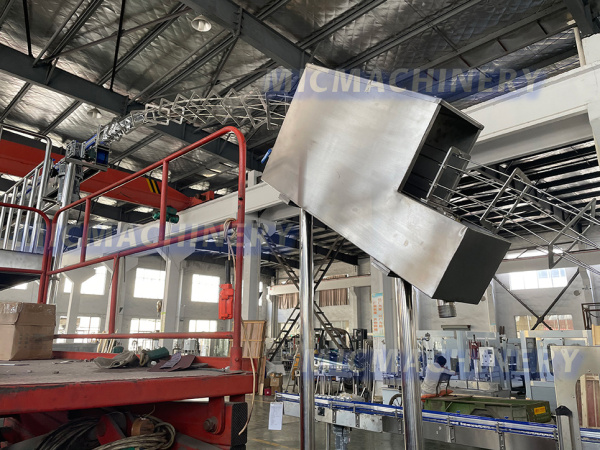 Inline can rinser / can washing machine
The inline can rinser is used to clean the empty cans by clean water before filling, we can add this can rinser in the beginning of filling line. The twist cages are customized with your sample cans. As long as the height and diameter of your cans are different, you need to buy the extra set twist cages to change.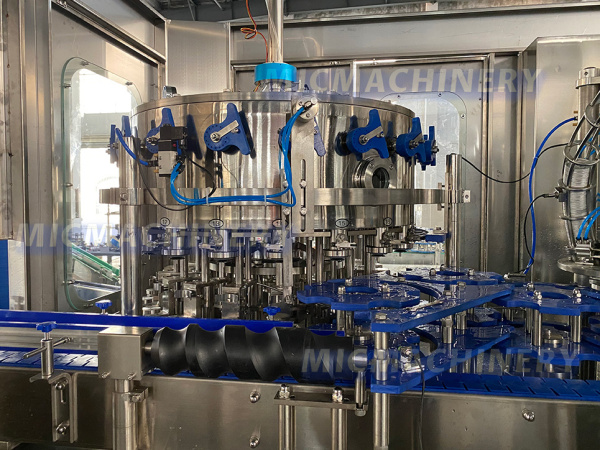 I
sobaric pressur
e
/ counter pressure filling system
"MIC" Isobaric pressuring filling does not create foaming during fill, unless beer is above 40°F. Counter Pressure filling leaves 1.27CM headspace, required by can manufacturers for product expansions and potential warming during distribution. Our machine will not foaming and it can keep low DO in the cans. Counter pressuring filling does not create foaming during filling process. Adopts high precision buffing process and food grade 304 stainless steel liquid tank. It will equipped with CIP connector as customer's demand.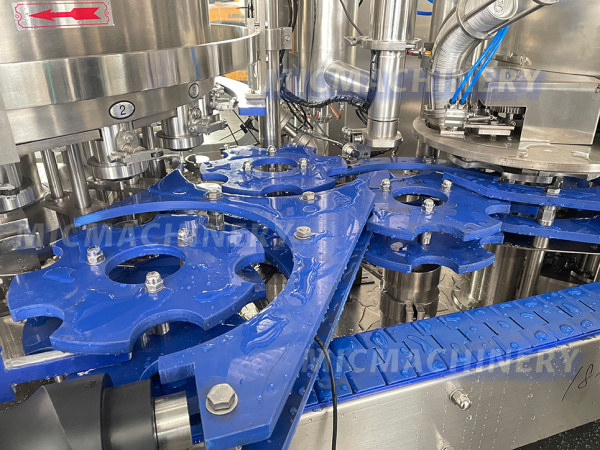 Liquid nitrogen doser
Normally, as for cold brew coffee, fruit juice and herbal tea filling, we will suggest our customer to add this liquid nitrogen doser to work with canning machine. In order to extend its shelf life and make sure it tastes good. It also makes the aluminum cans fuller and less prone to deformation.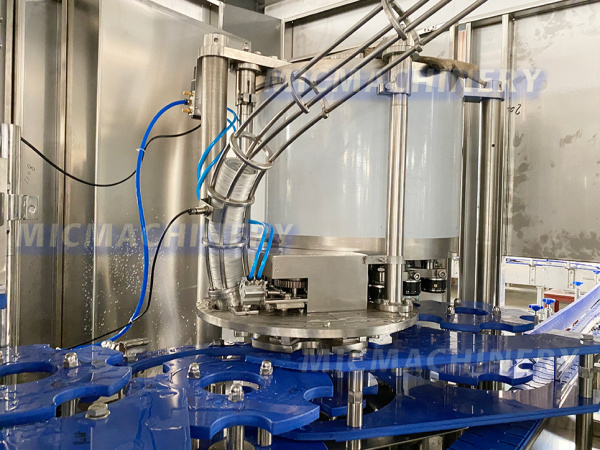 Aluminum lid seaming system
The "MIC" system is a mechanism actuated, cam-driven seamer with easily adjustable rollers that allow for precise adjustment to from seams that are within can-maker specifications. Seams are formed in under only a second, faster than any other system in its class. Through two past decade's technology innovation and optimization, the result is revolutionary.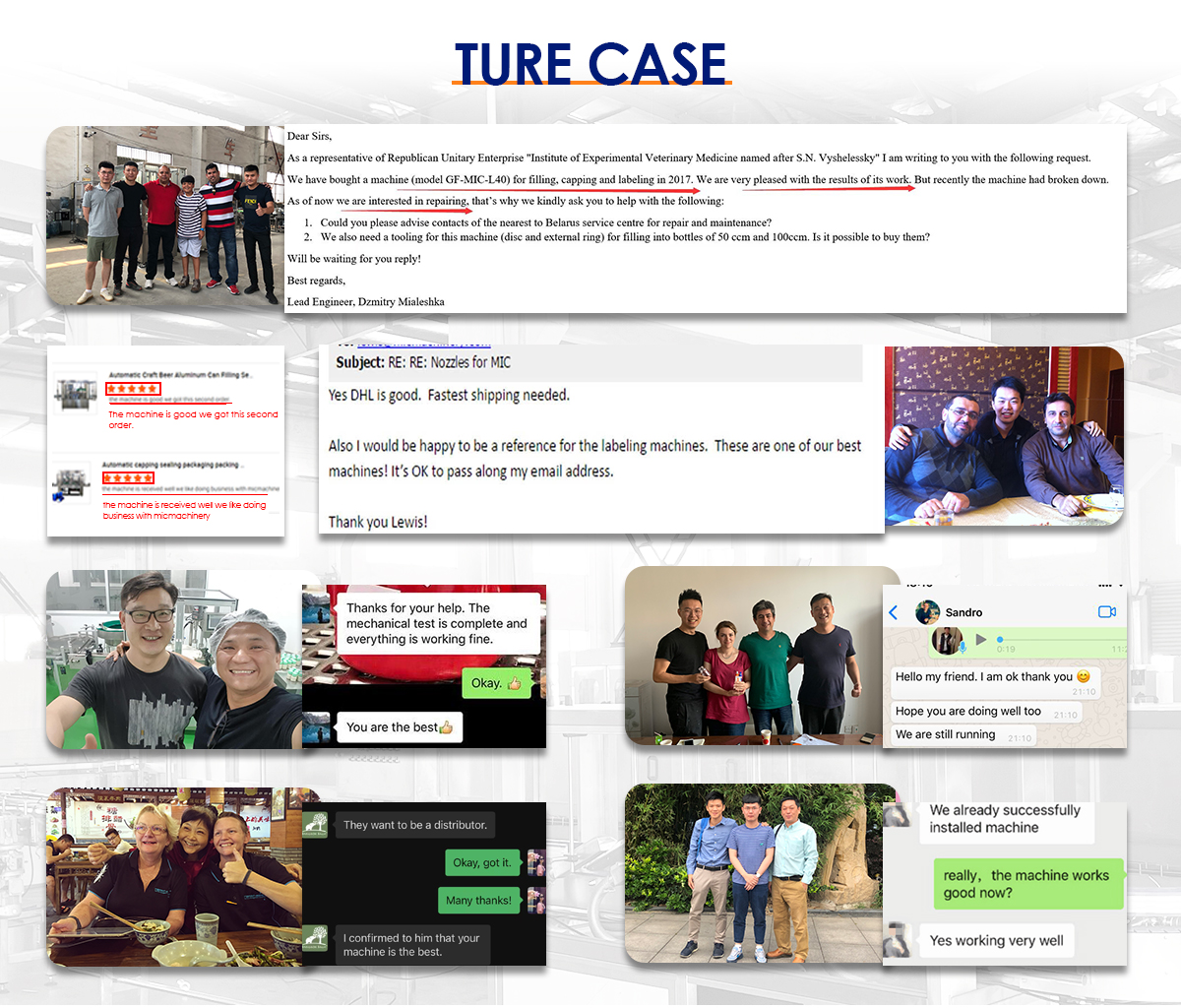 Mic 18-6 Parameters
| | |
| --- | --- |
| Power | 2.5Kw |
| Filling heads | 18piece |
| Sealing heads | 6piece |
| Production capacity | 3000-6000CPH based on 330ml |
| Filling temperature | 0-4 ℃ |
| Filling pressure | Max 5bar/0.5Mpa |
| Can diameter range | Ф40-90MM |
| Can height | 92-168MM |
| Dimension | 2300*1700*1950mm |
| Weight | 2500Kg |
More Model And Speed Click
Model

MIC 12-1
MIC 18-1
MIC 18-6
MIC 24-6
MIC 32-8
Application
Beer, Carbonated Beverage, Gas Drinks, Cold Coffee, Sparking Water, Cider, Soda Water, Herbal Tea, Non-Carbonated Drinks And So On
Packing Type
Aluminum Cans, Metal Cans, Tin Cans, Pet Cans Etc

Speed
1000-2000CPH
1000-2500CPH
3000-6000CPH
4000-8000CPH
6000-10000CPH
Filling Arrange
180ml, 250ml, 330ml, 355ml, 440ml, 500ml, 8oz, 12oz, 16oz, 1L and so on (0.1-1L)

Power
1.1kw
1.5kw
2.5kw
3.5kw
4.2kw
Size
1.8*1.3*1.95 (M)
1.9*1.3*1.95(M)
2.3*1.4*1.9(M)
2.58*1.7*1.8(M)
2.8*1.7*1.95(M)
Weight
1800KG
2100KG
2500KG
3000KG
3800(KG)
Name




Brand




Touch screen

Siemens (Germany)

AC

Contactor

Schneider (France)

PLC

Mitsubishi (Japan) / Siemens (Optional)

F

requency changer

Schneider (France)

Air cylinder




AirTAC (China) / FESTO (Optional)

Solenoid valve




AirTAC (China) / FESTO (Optional)

Relay




Omron (Japan) / Schneider (France)

photoelectric sensor

Autonics (Korea) / Omron (Optional)

Proximity switch




Autonics / Omron (Optional)