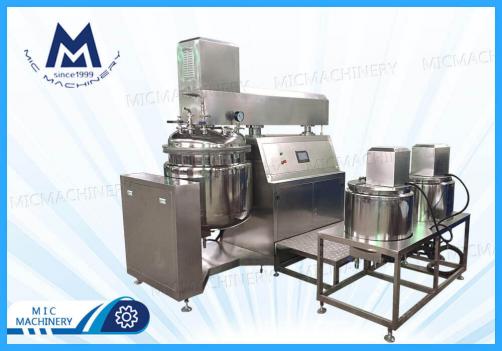 Parameter

Feature

Water pot and oil pot parameter
Factory
MIC Machinery Co., Ltd
Device Name
100L Emulsifying Machine
Working ability
Design volume: 120L
Working volume:100L
Minimum operating volume: 30L
Material
Contact Parts: 304 stainless steel thickness: 4mm
Interlayer: 304 stainless steel thickness: 4mm
Outer layer: 304 stainless steel thickness: 3mm
Weight
800kg
Size
1700mm×650mm×

1700-2700mm

Service life
10 years
Stirring
Fixed paddle stirring, PE blade Scraping
Homogenizer
Power: 3KW
Motor speed: 2900r/min
Particle size: 0.2-0.6um
Uncapping
Electric lift
Heating
Electric heating
Discharge
Tilt pot discharge and bottom valve discharge
Process parameters
Working pressure: 0.09MPa
Flimsy parts
1 year renewal except artificial
Warranty period
1 year
This machine consists of: oil tank, water tank, vacuum homogeneous emulsifying machine, heating system, mixing system, vacuum system, electric lifting system, operation control cabinet, piping system. It is the most suitable equipment to produce high-grade skin care creams or other creams products.
Oil tank capacity 40L; water tank capacity 60L; primary pot capacity 120L, working volume 100L; limiting vacuum 0.09MPa.
Size: Complete machine: 1700mm×650mm×1700-2700mm (according to the customers' need) Oil and water tank: 1200mm×600mm×1250mm
Material: Inner wall is made by 304 stainless steel, jacket and outer layer are made by 304 stainless steel, inner and outer are polished, the surface handled by special light treatment.
Oil tank and water tank are both double deck, inner wall thickness 4mm, middle and outer thickness 4mm.
Heating system: interlayer electric heating power 8KW, the outer layer covers by asbestos to insulate heat, reducing heat lost and avoiding scalding employees.
Mixing system: both toil tank and water tank assemble disperser of 0.75KW, to make the water and oil heated more quickly and evenly.
Vacuum Emulsifying pot: made of three decks by stainless steel. Interlayer thickness 4mm, middle layer thickness 4mm, outer layer thickness 3mm, special light treatment The homogenizer is on the top of the emulsifying pot, adjustable time setting depends on the product homogenization need, voltage 3800V, power 3KW, made in Shanghai and uses German technology, the highest speed 2800 rev / min. The material moves in a high speed between the rotor and stator, what can engender a strong hydraulic shear power to dispersing materials, meanwhile it can engender centrifugal power to extrude, milling, crash the material, ultimately make the material mixing, stirring, diminution to the desired requirements. A lighting hole on the pot cover to observe the states of homogeneity. Entrance for spots of material provide possibility to add essence and suchlike materials. Either pour-out the material by tilting the pot or from the bottom, the latter way can make the materials enter the filling machine directly for quantitative filling. Easy to clean.
Vacuum system: voltage 380V, power 1.1KW, materials in water tank and oil tank are absorbed into the primary pot in vacuum. The rotary-vanepump is made by Haibo Kang Company in Shanghai, which can remove the air bubble to improve the homogenizing effect.(circulating cooling by water)
Mixing system: voltage 380V, power 1.1KW, 10-120 rev / min. Monitoring with transparent filter, scraping the interlayer when mixing, frequency control.
Heating system: 8KW electric heating device attaching at the bottom. Heating with temperature display, easy to control.
Electric lifting: voltage 380V, power 1.1KW. Lifting is easy to operate, so the material can be effectively emulsified in a closed condition.
Control System: The control system is equipped with digital time relay device, so it can adjust time and speed of homogenizer based on different material. All control buttons are concentrated together,clear at a glance.
Water Pot
Factory
MIC Machinery Co., Ltd
Device Name
100L water pot
Working ability
Design volume: 60L
Working volume: 50L
Stirring
Blades stirring
Mixing Power: 0.75KW
Speed: 150r/min
Uncapping
Removeable uncapping
Temperature display
Digital Temperature display
Discharge
Bottom absorbing discharge
Process parameters
Working pressure: 0.09MPa
Material
Contact segment: 304 stainless steel thickness: 4mm
Outer layer: 304 stainless steel thickness: 3mm
Oil Pot
Factory
MIC Machinery Co., Ltd
Device Name
100L oil pot
Design capacity
Design volume: 50L
Working volume: 40L
Stirring
Blades stirring
Mixing Power: 0.75KW
Speed: 150r/min
Uncapping
Removeable uncapping
Temperature display
Digital temperature display
Discharge
Bottom absorbing discharge
Process parameters
Working pressure: 0.09MPa
Material
Contact segment: 304 stainless steel thickness: 4mm
Outer layer: 304 stainless steel
thickness: 3mm