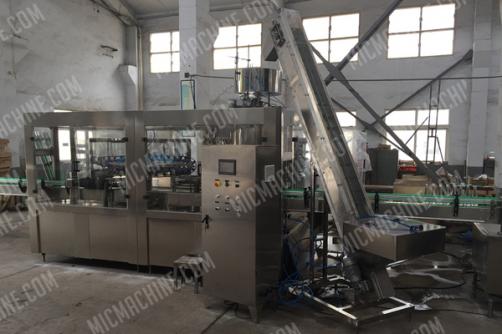 Introduction

Technical parameter

Configuration list

Customer Reviews
The machine is a kind of professional filling machine for mineral water, pure water which applies to PET bottle. It is made of high quality SUS304 stainless steel. Main components are processed precisely by CNC machine tool. The machine adopts advanced photo electricity to detect running status. No bottle no filling. It realize man-machine conversation because of applying touch screen for operation
1) Bottle is entered by air conveyor, the speed of bottle entering is fast and bottle shape isn't changed because of adopting hanging clamping bottleneck way
2) Adopting clamping bottleneck way to wash bottle mouth and avoid touching screw mouth, adopting clamping bottleneck way in the whole conveying process. When bottle type changes, you need to change the board related with bottle diameter
3) Filling adopts cylinder feeding structure, filling valve adopts high filling speed and mass flow rate valve which control liquids level accurately and without loss.
4) Screw capper adopts French advanced technology which cans screw cap promptly when clamping bottle.
5) The PLC and transducer are chosen from international famous brand, such as OMRON, MITSUBISHI and so on
We sold one to
The Republic of Serbia
on May 1,2017.
Technical parameter
Number of washing positions
32pieces
Number of filling positions
32pieces
Number of capping positions
10pieces
Production capacity
10000-12000bph base on 500ml
Suitable bottle height
160-340(mm)
Suitable bottle diameter
Ø50 - Ø95(mm)
Main motor power
3kw
Air pressure
0.4MPa
Air consume
0.15m3/min
Washing water pressure
0.2MPa
Washing water consume
About 1.5 T/hour
Main motor power
2.2kW
Total power
About 8kw
Shape dimension
4300x3500x2300mm
Weight
5500kg
Filling temperature
Normal temperature
Suitable bottle
PET bottle with crew cap
No
Name
Suppliers
Logo
1
Main motor
Boneng transmission
2
Fan motor
Wuxi , Luo community
3
Cap sorter motor
Zhejiang, Xinyangguang
4
Conveyor motor
Hangzhou, Zov Borel
5
Solenoid valve
Taiwan, AirTAC
6
Cylinder
7
Conveyor chain plate
Shanghai, GLLO
8
Gas source
Taiwan, AirTAC
9
Water pump
Hangzhou, Nanfang
10
Frequency converter
Mitsubishi
11
Switching power supply
Taiwan, MEAMWELL
12
Contactor, thermal protection
France, Schneider
13
Intermediate relay
OMRON
14
Photoelectric switch
Korea, AUTONICS
15
Proximity switch
Korea, AUTONICS
16
PLC control system
Mitsubishi
17
Touch screen
Taiwan, WEINVIEW
18
Air switch
France, Schneider
Water Factor, Tirana Albania, 2012
Beer Canning Factory, Wales UK, 2017,03